Online Master of Business Administration
A Master of Business Administration is an advanced study related to business. Its key objective is to equip students with problem-solving and decision-making skillset. Ultimately, this will make future business students set up their entrepreneurship or help meet any organization's objectives.
In an online Master of Business Administration, students will acquire knowledge that will help them with real-world problems. Online Business Administration is ideal for students who work alongside their studies. To grow professionally and become a future manager, Business Administration is a path that one should opt for.
Purpose of Online MBA
The purpose of an online MBA is to impart knowledge related to business subjects to students. This is ideal for students interested in running their businesses or helping organizations achieve their goals. Moreover, students acquire skills that will strengthen their business knowledge. The Online MBA provides the platform to learn how organizations function, including management. Students would learn how marketing functions and helps market services and products. It also opens the doors for various careers in any global organization. From marketing to management roles, the purpose of an online MBA is to make you professional in business studies.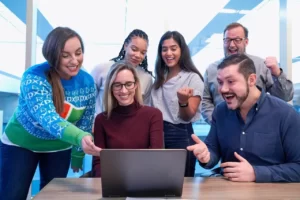 Benefits of online MBA 
A Master of Business Administration is regarded as a prestigious degree program. Hence, tuition fees worldwide are not affordable for local and international students. While an MBA is a good investment, business schools have great competition. This is why many students who are planning to pursue an MBA opt for online programs.
An online MBA's benefits are its low accommodation, visa, and other living costs. You can access online study materials through your laptop, phone, or tablet. MBA graduates can work in various industries like Healthcare, technology, marketing, and more. MBA professionals can become future entrepreneurs thanks to business knowledge gained in online programs. MBA has a wide variety of subjects and specializations you can choose from. You can go for one that is in line with your interest and is in high demand.
Online Business Administration Curriculum
To gain business knowledge in a global world, students have to equip themselves with core courses. These core courses will shape your perspective regarding firms, organizations, and worldwide business trends. Different business schools have different sets of academic credit hours or units. Typically, students are expected to complete their degree by taking all the core courses designed by any institution. The Continents States University is an online university offering an accredited online MBA, among other programs. The competency-based curriculum at the university offers the following courses, each with three credit hours.
Introduction to Business
Principles of Marketing
Managerial Accounting
Corporate Communication
Business Law and Ethics
Operations Management
Strategic Management
Human Resources Management
MBA Duration
The Online Degree of Master of Business Administration is an advanced graduate study that can be completed in a year. It takes less time to complete an online degree than the traditional one.
Accredited and Affordable Online MBA
The Continents States University offers an affordable online MBA to give you a head start for professional opportunities.