Online Master in Organizational Leadership
Why organizational leadership? People who have the desire to lead and motivate others to meet their personal or organizational goals are real-world leaders. They bring change in the mindset of others to help or mentor them in a better way. Coaches who resolve the team conflicts arising from disagreements among players are the leaders. The Online Master in Organizational Leadership is an advanced study that equips students with communication tools to build strong relationships.
Using these as tools, graduates can learn how to lead teams and employees and build better relationships with stakeholders. The objective of organizational leadership is to provide you with the skills to achieve organizational goals. Online degree seekers can take advantage of this advanced degree to have lucrative career options.
Purpose of Online Master in Organizational Leadership
The essential purpose of an online master's in organizational leadership is to build future leaders to achieve common organizational goals. Moreover, graduates learn to lead, manage, and motivate employees and teams for the organization's benefit. In addition to organizational goals, employees work in a relatively healthy environment free of conflicts or gossip.
Besides, students learn human and organizational communication skills to understand employees better. Graduates also feel the change in themselves as they manage the organization. For example, graduates can grow into negotiators as well as conflict resolvers. The degree helps you become future problem-solvers, decision-makers, and goal-oriented people. Moreover, you will be able to identify your strengths and weaknesses as you learn the courses.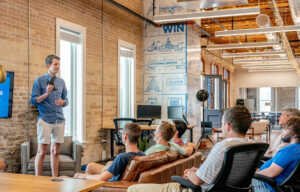 Benefits of Online Master in Organizational Leadership
Leaders enjoy the many perks and benefits that motivate them to do better. The salary package varies because organizational leadership has plenty of specializations. You can work as an HR manager, a top executive, a sales manager, or a training and development manager.
Each of those jobs has a different median salary and is expected to see job growth in the future. Moreover, you can enjoy the perks of working at top-level management in both private and public sectors. Several universities are offering online Masters in Organizational Leadership. However, if you're looking for a low-cost education, you should look for an affordable option.
Online Master in Organizational Leadership Curriculum
If you're interested in pursuing this online degree, you'd be interested in gaining insight into its course outline. Curriculum can differ in several universities concerning credit hours and units. Similarly, at The Continents States University, the curriculum varies in its credit hours and coursework.
Some of the courses are self-paced, benefitting students working alongside the studies.
Introduction to Business

Managerial Accounting

Corporate Communication

Customer Service

Business Law and Ethics

Human Communication

Microeconomics

International Trade
Online Master in Organizational Leadership Duration
The duration of this online degree depends on your credit hours and the time it takes to complete them. With online degree programs, you can progress to degree completion quickly as you fulfill the requirements. You can, however, finish it within a year efficiently.
Affordable Master in Organizational Leadership
The Continents States University offers the best competency-based online master's in organizational leadership. It is an affordable option who plans to broaden their horizons from the comfort of their homes. The Continents States University is institutionally accredited by ASIC. ASIC is a member of the Council for Higher Education Accreditation (CHEA) and an Educational Member of the International Accreditation Council for Business Education (IACBE). An Educational Member of the IACBE is an academic business unit that has met the IACBE's requirements for membership and has affirmed its commitment to excellence in business education. IACBE is recognized by the Council for Higher Education Accreditation (CHEA) as an American accreditation agency. Look at IACBE website.