Using APA Style
APA style (Referencing) is a writing style and format for academic documents such as scholarly journal articles and books. You must use the author-date method of in-text citation when using APA format. An author's last name, followed by the source's work publication year, should appear in the text, for example (Jones, 2020). One complete reference for each source should appear in the reference list at the end of the paper.
Students sometimes use external tools to cite their work, like Purdue Online Writing Lab. The online writing lab at Purdue University is a perfect environment to start learning your APA format.
Other students prefer to learn about the APA format from EasyBib Guide. In this guide, students and researchers can learn the basics of creating a properly formatted research paper according to APA guidelines. It includes information on how to conceptualize, outline, and format the basic structure of your paper, as well as practical tips on spelling, abbreviation, punctuation, and more. The guide concludes with a complete sample paper and a final checklist that writers can use to prepare their submission work.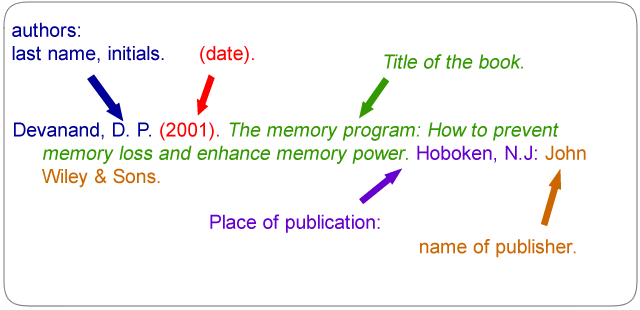 Students can use another good example of APA citation learning modules at Scribber APA citation guidelines.
A citation can be created manually or generated by other online applications called "Citation Machines" like BibGuru. Students can start using these machines by selecting the type of work as a Website, Book, or Article.
Another free tool to cite your work is called Formatically. Check out this video training.