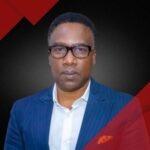 Dr. Charles Anosike
Dedicated Lifelong Learner and Sustainability Advocate, Dr. Charles Anosike, Brings Over 20 Years of Experience to The Continents States University, Empowering Education with Systems Thinking and Sustainable Practices
Dr. Charles Anosike is a dedicated lifelong learner, systems thinker, and advocate for sustainability. With over 20 years of experience in management and information technology consulting, he joined The Continents States University to bring his expertise to the field. Dr. Anosike actively promotes and facilitates systems thinking to enhance organizations' and policy-makers' comprehension of complex systems, thereby fostering collective leadership. As the founder of the Center for System Leadership & Sustainability (CSLS), he has established himself as a leading authority in this domain.
Throughout his career, Dr. Anosike has provided consultation services and contributed to numerous government agencies in Nigeria. He holds a Bachelor of Fine Arts in Visual Communication from American Intercontinental University, along with a Master's in Information Technology Project Management from MIT. His pursuit of knowledge led him to obtain a Doctorate in Business Administration with a specialization in Leadership from Walden University.
Recognized for his professional achievements, Dr. Anosike is a fellow of the Chartered Management Institute (UK-FCMI), the Institute of Management Consultants (FIMC), and the American Academy of Project Management (FAAPM). Furthermore, he is a Green project manager, a Chartered Management Practitioner (CMP), and an esteemed member of the Nigerian Institute of Management (Chartered) (MNIM).
Dr. Anosike's scholarly contributions have been invaluable, and his doctoral dissertation, titled "Sustainability Efforts of One Oil Company in Niger Delta of Nigeria," was published in the Proquest/UMI dissertation database (Open Access). This research exemplifies his dedication to investigating sustainability practices within the context of the Niger Delta region.
In summary, Dr. Charles Anosike is an accomplished professional with extensive experience, a commitment to lifelong learning, and a passion for promoting sustainable practices. His expertise in systems thinking and collective leadership has had a significant impact on organizations and policy-making processes.